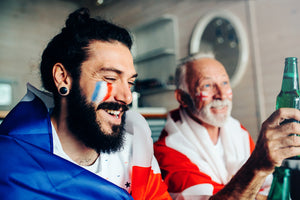 Dive into the French language and immerse yourself in practical in-language lessons with a native-fluent Berlitz instructor. Whether you're learning the language for work, travel, education, or just the love of it, with Berlitz you can customize your learning to match your goals.
Study French at home
Why learn French online with Berlitz
No matter what your language goals, we offer numerous options to learn French independently or with the support of an instructor. In addition to a flexible schedule, we can tailor the content of your course to be relevant to your work, interests and learning goals.

Throughout your language course, there are regular milestones at which point you can assess whether you are on track or whether you should access additional support. This enables you to achieve even faster learning, as well as optimize your learning process as you progress.
Online French course options
1. Self-paced online French course

Our self-paced classes make learning French easy – study online in your own time and practice what you have learned with our Berlitz instructors.

2.Live online French course

Berlitz live online gives you the same benefits and human interaction of a physical classroom, with the added convenience of learning from wherever you want, at a time that suits you.
Advantages of learning French online with Berlitz
Possibility to switch between online and face-to-face classes

At Berlitz you have the opportunity to take classes both in-person and online, according to your availability.

10 levels of proficiency

With Berlitz you can take a proficiency test and a quick language assessment to find out which level suits your needs. There are 10 levels tabulated according to ability.

Fast and efficient learning

You will quickly advance, understanding in an agile and practical way as you progress through the program levels.

Cultural understanding beyond just language

Classes focus on going beyond just the language. You will get to know a whole new culture directly with native and experienced teachers whilst immersing yourself in the language.
Yes, we offer numerous language courses for companies, which are designed according to your professional field along with the associated learning content. You can determine the main topics to be covered so that you primarily acquire language skills relevant to your everyday work.
The fastest way to learn French is with our online private lessons. You will enjoy the full attention of the language instructor, more speaking time and can organize the lessons according to your interests and goals.
Our online courses, in particular, can be easily integrated into your everyday life. With our self-study program, for example, you will find many exercises of different lengths that you can quickly do during your lunch break, on the bus or in the evening on the sofa.