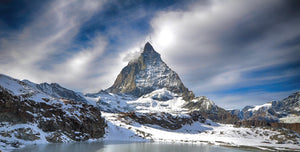 Zermatt Leadership Program
2023 Zermatt Program Enrollment Closed
Stay Tuned for Next Year's Updates!
Nature is our playground
Led by a glacier expert, this program offers a chance to learn about the natural environment and improve hiking skills.
Perfect for families seeking an educational and informative outdoor adventure.
Learn from the Best
Join our Zermatt leadership program led by renowned educator and glacier expert.
Let your children learn from his leadership experience and guidance, empowering them to become future leaders while exploring the stunning Swiss Alps.
Hiking Together
This program is perfect for families who want to spend quality time together in the great outdoors. With activities designed for kids and adults, everyone can enjoy the natural scenery and learn new skills.
Bond with your loved ones and create unforgettable memories on this family-friendly hiking adventure.
PROGRAM LEADER
Paul Cleves
Member of the Most Excellent Order of the British Empire (MBE)
Lead Guide and Instructor
Meet Paul
Paul first visited Zermatt in 1977 as an undergraduate glaciologist and has returned regularly ever since. Over the years He has introduced many students to the delights of walking in the mountains and forests above Zermatt.
He intimately knows the country and Zermatt and its surrounding mountains, paths, and glaciers.

Paul is a former head of Geography at Eton College and the founder of Saigon Children's Charity, a well-respected educational charity in Vietnam that has helped thousands of children gain access to education and vocational training. His passion for education and leadership development has driven him to create meaningful impact in communities both locally and globally.
Zermatt Leadership Program
What is Zermatt Leadership Program?
Our leadership program is designed to empower children with the skills, knowledge, and confidence to become successful leaders in today's rapidly changing world. We understand the significance of leadership values and practices that differ between the East and the West and acknowledge the importance of cultivating cultural awareness and sensitivity.
Our comprehensive program provides an in-depth understanding of diverse leadership styles and cultures, equipping children with the tools to navigate and negotiate differences across geographical and temporal boundaries. By participating in our program, children will gain the essential communication, teamwork, and decision-making skills needed to thrive as leaders in their respective industries.
Our program offers an unparalleled opportunity for children in the region to explore a variety of cultures and leadership styles, providing them with a lifelong foundation for leadership success and personal growth.
Join our program today and unlock your child's full leadership potential!
5-day outdoor leadership program in the Swiss Alps (Zermatt) for children & parents
Focuses on providing children with leadership skills and opportunities across multiple cultures and languages, in a distinctly unique environment using English as the common language
Able to hike 15-20km a day
Total group will consist of just 12-16 participants
Why choose Zermatt Leadership Program?
Environmental Impact Experience: With the program leader's expertise in glaciers and the environment, the hiking course offers a unique opportunity for participants to learn about the natural wonders of Zermatt, Switzerland. Participants will have the chance to gain knowledge about the environment and learn about the different species that thrive in the alpine region.
Safe and Fun for Families: The program is designed for families with children aged 8 and above. The hiking routes are carefully chosen to be safe and enjoyable for families. With Paul and his team's guidance and support, participants will have the opportunity to experience the beauty of nature and the outdoors while being in a safe and controlled environment.
Expert Leadership: Paul has extensive experience in training young children for leadership roles, coupled with his previous teaching role at Eton College in the UK. Participants will have the opportunity to gain essential communication, teamwork, and decision-making skills under Paul and his team's guidance. Through this program, they will develop into strong and effective leaders.
Unique Accommodation Experience: The program offers a unique opportunity to experience sleeping in mountain huts. Participants will get to enjoy a breathtaking view of the alpine landscapes while spending their nights in the huts.
Limited Group Size: The program is limited to a maximum of 16 participants, ensuring a more intimate and personalized experience. This creates a greater opportunity for camaraderie and the formation of friendships among the friend group, family members, and guide team.
Where will we visit?
In this program, we will be visiting Grunsee, Sunnegga, Gornergrat, Rotenboden, Riffelalp, and Furi.
The four national languages of Switzerland are German, French, Italian, and Romansh. We offer language courses in German, French, and Italian to enhance your travel experience and connect with the locals. (Zermatt program is conducted in English)
Maximize your Zermatt experience with our language classes and immerse yourself in Swiss culture!